POLISHED CONCRETE & EPOXY FLOORING
Polished Concrete & Epoxy Flooring in Auckland, NZ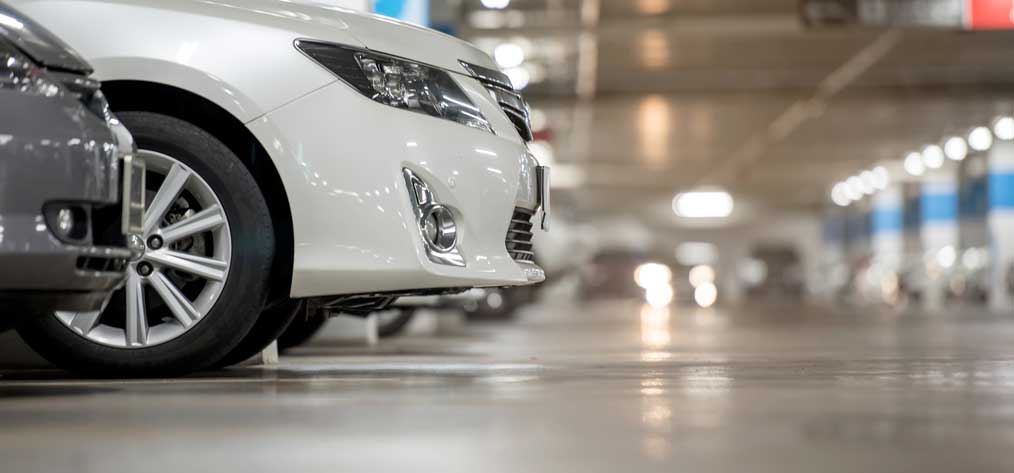 Polished Concrete & Epoxy Flooring offers epoxy flooring in Auckland, New Zealand. Epoxy floor coating is a hard plastic cover over a concrete floor. It is created by mixing polymer resins and hardening agents.
The hardened material is extremely strong and durable, making garage floor epoxy a local favorite. You can park your car or truck on residential epoxy flooring with no problems at all, and most types of epoxy are stain-resistant from any spills that get on them.
​
We generally install metallic epoxy floors for heavy-duty jobs, such as industrial or commercial epoxy flooring. During epoxy floor installation, we mix metal flakes into a clear resin. The metal reinforces the resin and creates a stunning design as it dries.
The cost of installing an epoxy floor in your home or business depends on size and location. Call us at 09 886 5905 or fill out the easy quote form. We will schedule a time to give you a free estimate or give you a free quote. ​
Polished Concrete NZ

Commercial Flooring

Epoxy Flooring

Epoxy Floor Coating NZ

Concrete Polishing

Flake Concrete Finishes

Garage Flooring

Kitchen Flooring

And More
FREE INSTANT QUOTE!
Get a FAST Response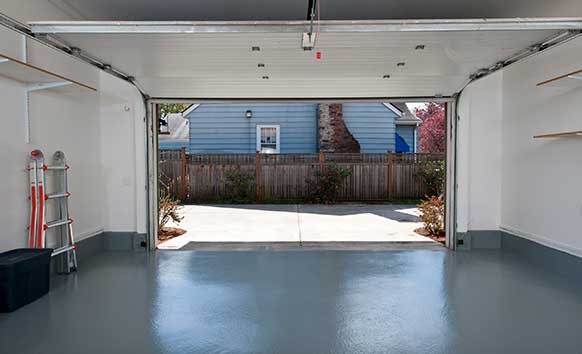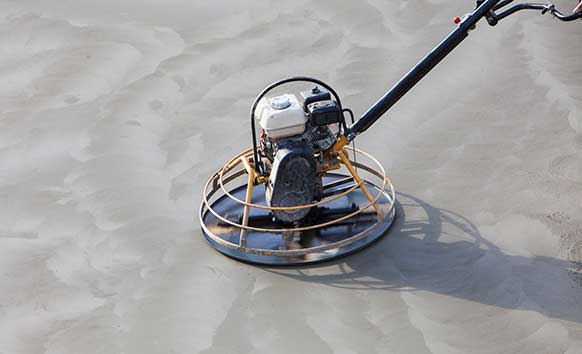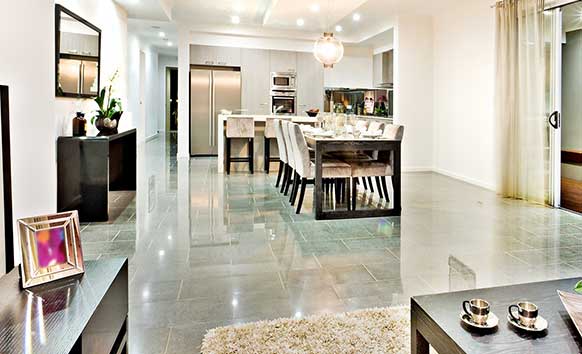 Polished Concrete NZ Floors in Auckland
Because of their durability and affordability, epoxy systems and polished concrete floors were initially used in industrial and commercial settings. Compared to traditional flooring materials such as hardwood or tile, polished concrete can provide a customized surface for less money.
Your floors will outperform other types of flooring systems, including natural stone options, in addition to being aesthetically pleasing. Because cured cement is one of the most impenetrable building materials, it only makes sense to use it for your floors.
Polished Concrete & Epoxy Flooring offers a range of options when it comes to creating the perfect polished concrete floors for your space. From stain resistance and durability to custom colour enhancement and decorative finishes, there's something available for every budget and style preference.
Their team of experienced professionals is committed to bringing clients' visions to life with beautiful results that last for years to come. Read on to find out more about how Polished Concrete & Epoxy Flooring can help you create stunning commercial polished concrete floors!
Unlike wood panels, tiles and grout, and carpet and rugs, there will be no costly or time-consuming maintenance requirements. Installing polished concrete flooring not only adds value to your home, but it also comes with low service costs, which include:
Superior Impact Resistance

Scratch, Scuff, & Stain Resistant

Fade-Resistant Designs

Ideal for Furniture

Many Design Choices

Simplified Cleaning

Straightforward Upkeep

Long-Lasting Sheen

And more lasting benefits.

Epoxy Flooring Auckland – Garage Epoxy Flooring Auckland
Epoxy flooring is commonly used by homeowners to protect and improve their garages and storage areas. It's an affordable option for home improvement projects because of its long-lasting durability and appealing designs.
Some people prefer their garage floor coating to look like a classic car showroom, while others are more concerned with surface durability. These floors can withstand it all, whether you use your garage for storage, parking cars, or weekend hobbies and projects.
These surfaces are ideal for garage floors because they are resistant to corrosive liquids, automotive fluids, paints, and adhesives. The best part is that they require little maintenance and can be cleaned on a daily basis with little effort on the part of the homeowner.

Polished Concrete & Epoxy Flooring – Metallic Epoxy Floor Coatings
Because of the customisable metallic design elements, New Zealand homeowners frequently switch to epoxy flooring systems. You can create a variety of looks with these one-of-a-kind patterns, such as faux stone or swirling clouds.
Polished Concrete Auckland offers a variety of colors, textures, installation options, and personalised options to our customers. We can help you bring your ideas to life, no matter how unique or intricate they are.
Metallic epoxy flooring is trendy and looks great in any room, from formal dining rooms to more casual living rooms. If you want something different than traditional flooring materials, we can help you achieve the look you want.

Auckland Epoxy Flooring Contractors
We are your concrete floor installation specialists. We can create any design you want, from bright and reflective surfaces to carpet-like patterns in more subdued colors. Allow us to assist you in bringing your ideas to life.
With our extensive selection of stains, designs, and polishing techniques, creating one-of-a-kind floors is simple. Our Polished concrete Auckland installation specialists are eager to hear about your unique ideas. You can also save money on new surfaces and other items by:
Cream Polish Floors

Salt & Pepper Polish

Medium Aggregate Polished Floors

Large Aggregate Flooring

Flat Finish Floors

Satin Finish Surfaces

Low Gloss Flooring

Semi-Polished Floors

High Gloss Surfaces

Polished Concrete Auckland Free Service Estimate
What We Offer 
Polished Concrete Auckland provides a wide range of concrete floor polishing services. We can not only install new polished concrete floors and surfaces, but we can also repair or upgrade existing ones.
Our team is made up of highly trained professionals who know exactly how to handle any concrete polishing job. All of our installations are completed with the most up-to-date techniques and materials, ensuring that you get an excellent job every time.
Epoxy Garage Flooring Auckland
A nice garage floor option is a metallic look. Solid colors are also available of course. Our Auckland epoxy garage flooring installers can show you the different designs of what's available and give you a quote for different options.
If you already have an Polished concrete Auckland epoxy garage floor and want to change its colour, no problem – we can either coat the old one or cover it with a new floor. We normally recommend getting a new epoxy installation to avoid future damage and constant maintenance. ​

Epoxy Kitchen Floors – Polished Concrete Auckland
Our team can install epoxy over a range of different types of flooring, such as hardwood or tiles. Even though epoxy is traditionally installed over concrete, we can still install it over most other surfaces.
If you have hardwood, people generally want a clear coat applied. It gives you a solid cover over the top while letting you still see the beautiful-looking wood underneath. The epoxy coating will make your wood last much longer.
When laying new epoxy flooring over tile, you can run into some trouble. If the tile is somewhat loose from the cement underneath it, it can compromise the strength of the new epoxy. That's where we can advise on what's best for your flooring Polished Concrete Auckland situation.​
Polished Concrete Benefits
The use of polished concrete in your home has numerous advantages over other flooring materials such as wood or carpeting. The most obvious advantage is its durability, which is due to the fact that it is made of solid materials and can withstand heavy foot traffic better than other types of flooring materials.
It is also easier to maintain than other types of flooring – all you need is a damp mop or cloth and some mild detergent!
Finally, because it reflects light rather than absorbs it, it keeps your home cooler during hot summer days.
There is no better choice for top-notch polished concrete services in Auckland, with years of industry experience and an unwavering commitment to providing excellent Polished Concrete Auckland customer service. If you want to learn more about what we can do for your home, please get in touch with us today!
Needing Waterproofing in Auckland? Check out Waterproofing Auckland Pros
Benefits of Hiring Us for Commercial Polished Flooring
There is no better choice for all your concrete repair and home renovation needs than Polished Concrete Auckland, with our high-quality services for polished and coated concrete, epoxy flooring, and more. We have the ideal solutions for you whether you need new installation or repair services, or you want to upgrade your home with stylish and long-lasting polished garage floors. So, why delay? Contact us today to begin the process of transforming your home!
We understand that each project is unique, which is why we work closely with our clients from start to finish. We will take the time to understand your needs and preferences before providing you with a detailed quote for polished concrete floors. Once you've approved the quote, we'll get right to work on finishing your project as soon as possible without sacrificing quality.
We also have partnerships with our friends at Artificial Grass Auckland Pros if you are looking for Artificial Grass in Auckland.
Experience, Versatility, and Affordable Fair Pricing
We take pride in our honesty and fairness at Polished Concrete & Epoxy Flooring. With years of industry experience, we provide a comprehensive range of services to meet your construction needs. Our competitive pricing is unrivaled – we offer high-quality services at a reasonable price. Get a free quote from us today!
High-Quality Workmanship and Custom Polished concrete
We provide a wide range of Polished Concrete & Epoxy Flooring customisation options to help you realise your vision. Our team is experienced and dependable, so you can rest assured that your project is in capable hands. We only use high-quality materials, ensuring that your concrete structures will last for decades!
Exceptionally Tidy and Clean Handover
Polished Concrete & Epoxy Flooring Service makes chaotic construction areas a thing of the past, leaving you with a clean and brightly shining area. We also handle all of the leftover raw materials and construction so you don't have to. Finally, our team will leave you with a space that has been seamlessly transitioned and is ready for use.
Preparation
The preparation of a commercial polished concrete floor is essential in order to ensure the best results.
The area must first be cleaned of any debris and dirt, then cleared of any furniture or items that may be obstructing the working space.
A diamond grinding machine is also needed to smooth out any rough patches and help make the surface even.
Once finished, a sealer should be applied to provide an extra layer of protection for the concrete surface.
Lastly, a densifier can be used to increase strength and durability before polishing begins.
This process will improve the overall look and feel of your polished concrete floor.
Application Process 
Are you considering having commercial polished concrete flooring installed in your business? The application process for this type of flooring is not complicated, but it does require attention to detail and adherence to certain guidelines.
Here's what you need to know.
First, the surface must be prepared correctly before installation can begin. This means that any existing coatings or finishes must be removed so that the installer has a fresh, clean base on which to work.
Once polished Concrete prepping is complete, an epoxy primer should be applied prior to polishing the concrete.
After priming, grinding begins with increasingly finer diamond abrasives until the desired finish is achieved.
Depending on the level of shine required, several coats of sealer may also be necessary.
Finally, once all steps are finished and inspected by a professional contractor, your beautiful polished concrete Auckland floors will be ready for use!
Enhancing Polished Concrete Floors
Polished concrete a great flooring option because it can be tailored to fit any style and budget.
Here are four tips for enhancing your commercial polished concrete flooring:
Install decorative features such as medallions or inlays to create visual interest.
Choose from various stain options, including acid stains and water-based dyes, to customize the color of the floor.
Try grinding techniques like diamond polishing or honing to add texture and depth.
Use a penetrating sealer to protect against wear, dirt, and moisture damage.
These enhancements will not only make your polished concrete floor look stunning but also help ensure its longevity and performance over time.
Maintenance
It's important to keep your polished concrete flooring looking its best, and with the right maintenance routine, you can do just that!
Regular cleaning is key to keeping it in top condition. Vacuuming regularly using a soft brush attachment will help remove dust and small particles from the surface; while mopping with a damp mop or cloth helps remove dirt build-up.
For tougher stains, a pH-neutral cleaner should be used as other products may damage the sealant on the floor. Additionally, applying a wax every six months will protect against wear and tear over time.
Taking these simple steps can ensure that your commercial polished concrete floors remain to look great for years to come.
Frequently Asked Questions 
How Long Will The Concrete Polishing And Epoxy Flooring Services Last?
When it comes to concrete polishing and epoxy flooring services, one of the most important questions is how long will they last? This is a valid point when considering any kind of renovation or improvement for your home. Fortunately, Polished Concrete & Epoxy Flooring offers reliable results that are guaranteed to keep your floors looking fresh for years to come.
Our team uses specialized equipment and high-quality materials that ensure an even finish with no cracks or uneven surfaces. We also use special sealing products and protective coatings over our work which ensures strength and durability in all kinds of weather conditions. As such, you can be sure that your new floors will look great for many years without needing as much maintenance as other types of flooring options would require.
What Safety Measures Are Taken When Carrying Out The Services?
Safety is of utmost importance when carrying out any service, and the concrete polishing and epoxy flooring services are no exception. Polished Concrete & Epoxy Flooring takes all necessary safety measures to ensure that everything runs smoothly. All technicians involved in the process have extensive experience with working with hazardous materials as well as having a thorough knowledge of health and safety regulations.
In addition, they use protective gear such as eye protection and breathing masks while performing their work. They also make sure to follow proper disposal protocols for any waste generated during the job so that it does not cause harm to people or the environment. Moreover, all equipment used by them is regularly inspected for malfunctioning parts or potential hazards in order to protect everyone from injury or accidents.
At Polished Concrete & Epoxy Flooring, we take our responsibility seriously when providing these services and do whatever we can to guarantee a safe working environment for both our workers and customers alike.
Are There Any Additional Costs Associated With The Services?
Are there any additional costs associated with the services? This is a question that many people have when considering concrete polishing and epoxy flooring. Fortunately, Polished Concrete & Epoxy Flooring offers competitive pricing for these services, so customers don't have to worry about hidden fees or surprise charges. That said, it's important to note that certain variables may play into the cost of your project. For example, if you need more customization than expected, an increase in price could be necessary.
The good news is that Polished Concrete & Epoxy Flooring will let you know ahead of time what those extra costs might be – if any – before starting work on your job. In addition, they provide several payment options for their customers' convenience, such as credit cards, e-transfers and cash payments. All this ensures that clients can get the best value out of their service without sacrificing quality.
Are There Any Options For Customising The Services?
When it comes to concrete polishing and epoxy flooring services provided by Polished Concrete & Epoxy Flooring, customers may be wondering if there are any options for customizing the services. The answer is yes! There are many ways to customize the services offered by this company, allowing clients to tailor their project to meet their individual needs.
For example, with concrete polishing there are different levels of shine that can be achieved depending on the type of finish desired. This can range from a matte finish all the way up to a high gloss look. Additionally, color dyes and stains can be used in order to create unique designs within the concrete surface. With epoxy coatings, there are also various styles available such as solid colors or flakes which give an extra layer of depth and texture to the coating. Furthermore, additives like quartz sand or glass beads can be added into both types of service in order to enhance traction or provide additional decorative elements.
No matter what kind of customisation a customer desires, they should know that Polished Concrete & Epoxy Flooring has plenty of options available when it comes to making sure their project turns out exactly how they want it. By working closely with them throughout the process, anyone looking for customized services will surely get results beyond expectations!
Can The Services Be Used On Any Type Of Flooring?
When it comes to concrete polishing and epoxy flooring services, offered by Polished Concrete & Epoxy Flooring, there is always the question of whether these services can be used on any type of floors. The answer is yes! With a wide range of options for customizing the services, this company offers professional solutions that work with all types of floors.
Thanks to their experienced team and state-of-the-art equipment, they are able to provide quality results for multiple surfaces such as vinyl, wood, stone and laminate. They also offer specialized treatments like stain removal and color enhancement.
Additionally, they have knowledge in dealing with diverse materials like terrazzo and travertine. Thanks to their expertise and dedication to customer satisfaction, you can rest assured knowing your floor will look great after receiving the necessary treatment from them.
So if you're looking for an expert service provider who can handle any kind of flooring project regardless of its complexity or size – then Polished Concrete & Epoxy Flooring is definitely worth considering. Their topnotch service makes sure every result looks perfect while adhering to safety standards at all times!